The annual DEMA (Dive Equipment and Marketing Association) dive show is underway in Orlando, Florida, and more than 600 dive manufacturers, distributors, travel destinations, and dive-releated organizations are showcasing their brands at the huge Orlando Convention Center. An estimated 12,000 dive industry professionals will attend the show this week.
Many new products for the next year are revealed at the show for the first time – and we saw several new and improved products here today worth noting. There will be more in-depth product stories to come in the following weeks, so keep checking back for more!
Poseidon SE7EN Rebreather
Today, Poseidon released their new and highly-anticipated Se7en rebreather system. This new rebreather is designed to be flexible enough to accommodate recreational rebreather divers through full technical divers who want to explore 100 meter dives. Some highlights of the system include Bluetooth connectivity, where you can instantly make configuration changes and download all your dive data wirelessly, an upgraded mouthpiece, a cover with a built in handle handle system and grab and lighting rails, and much more. Here's Poseidon's President James explaining the features of the new Se7en (Click to watch):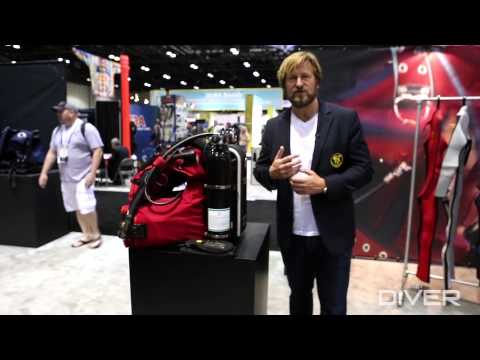 Orcalight's new 22,000 Lumen Dive Light
Orcalight showcased their new 22,000-lumen light – the most powerful dive light currently on the market. The Seawolf A-2260 has a 10-bar pressure rating, a canister-style battery that lasts over 2 hours, swappable lenses, and 3 power settings.
The Seawolf A-2260 was designed with underwater video production in mind, and Doug Anderson (BBC Blue Planet's cameraman) saying "The power and color rendition of the light blew my mind"!  More information on the light can be found on their website at http://www.orcalight.co.uk.
DiveCaddy's New G3 Backpack System
If you haven't seen the DiveCaddy, it definitely worth checking out – especially if you do a lot of traveling. Chad Watson shared with us his latest design of the DiveCaddy and describes the DiveCaddy's features, advantages, and benefit over other more traditional dive bags: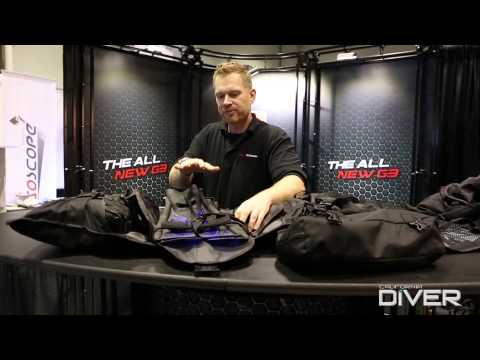 Light & Motion's New GoBe Light
Light & Motion, based on Cannery Row in Monterey, has build some of the best dive lights available, and have continued doing so with the introduction of their new GoBe light. The Gobe offers customers a choice of 6 base models that are built for both diving and non-diving activities. Each beam is designed to enhance the experience of the intended pursuit. GoBe comes as a 500-lumen Spot Beam, a 500-lumen Search Beam, a 500-lumen NightSea Beam or in a special Pink Body with 500-lumen Spot Beam light-head edition. The GoBe+, a more powerful light, can be purchased as either a 700 lumen Wide Beam or Spot Beam light head. Users can extend the function of their light by customizing the GoBe with an array of interchangeable light heads as well.
At 160 grams, GoBe is engineered to be travel friendly and includes an accurate battery life indicator, USB charging, three power levels, SOS mode, and can run up to 54 hours on a single charge.
In addition to their new GoBe light, Light & Motion continues the SOLA series with the recent introduction of the SOLA 2500 Video light. Delivering a powerful 90° smooth pool of light, this ultra wide-angle beam will fills the area evenly without hot spots and allows greater latitude for camera positioning. At full burn, the light will product 2500 lumens for 60 minutes, and 4 hours at it's lowest setting.
The Sola 2500 is available now, and the GoBe light will be available soon at local retailers. For more information, visit Light & Motion's website at http://www.lightandmotion.com.
ReefNet's Sensus Ultra
While the Sensus Ultra is not a new product this year, it's ease of use and simplicity make it a unique product that many divers might light. The Sensus Ultra is a very compact (1″ x 1.3″ x 1.75″) precision dive data recorder that you simply clip onto your gear before a dive, then quickly and easily download the data afterwards. It records up to 1500 hours of depth and temperature profiles with remarkable precision (1cm for depth, .01 degrees for temperature), and can be custom configured to change the sampling interval, activation depth, and more.
For more information on the Sensus Ultra, visit their website at http://reefnet.ca/products/sensus.
California's Guide to Marine Sanctuaries Phone/iPad App
In partnership with the National Marine Sanctuary Foundation and NOAA's National Marine Sanctuaries, International Mapping developed the National Marine Sanctuaries: California Experience app as an all-in-one visitor's guide to these amazing places, providing a wealth of information about the sights, sounds, history and natural wonders in and around California's four national marine sanctuaries: Monterey Bay, Gulf of the Farallones, Channel Islands, and Cordell Bank.
The app covers more than 8,600 square miles of federally protected ocean and coastal waters stretching from Santa Barbara to San Francisco, and from Big Sur to the Farallon Islands. Zoomable layers make it easy to explore maps of the sanctuaries, complete with site boundaries, seafloor topography, visitor centers, historic shipwrecks, and much more. The app also features a searchable encyclopedia, glossary and photo gallery featuring more than 300 high-quality images of sanctuary marine life and habitats. You can see and download the app here: https://itunes.apple.com/us/app/national-marine-sanctuaries/id665924513
Dive Crystal Blue Resort in the Philippines' with Mike Bartick this January!
Mike Bartick's annual Critterfest takes place this January at Crystal Blue Resort in the Philippines this January, and there are still a few spots left. Join Mike and other photographers at one of the world's greatest locations for underwater photography and video, and enjoy the beauty, comfort, and convenience of one of the area's most beautiful resorts. Direct flights are available from California to Manilla, and Crystal Blue Resorts will take care of you from there, include transportation from the airport. Here's Mike with a quick rundown on the location and event:
For more information, visit Crystal Blue Resorts, and visit Mike's website for more information on the Critterfest.
Beneath The Surface GoPro Camera Accessories
Beneath the Surface has built an impressive line of custom accessories for the GoPro camera system, in addition their line of  traditional DSLR and compact underwater camera accessories. Owner Sean Gibbs shares some of his products here: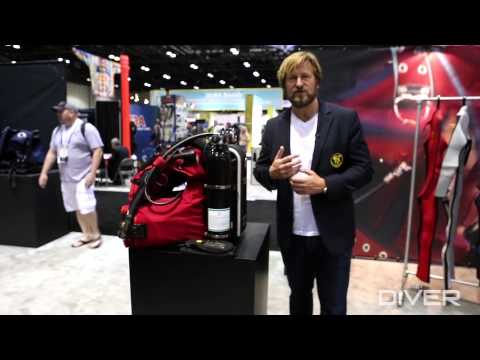 For more information on Beneath The Surface products, visit their website at http://www.beneaththesurface1.com.
Diveheart's New Worldwide Training Program
Jim Elliott's Diveheart Foundation helps the disabled build confidence and independence by learning to dive and has helped make dreams come true for thousands of divers worldwide. He has now launched an online program to train instructors all over the world, which greatly expands Diveheart's reach and will now open doors to thousands of other disabled divers.
Here's Jim explaining this new exciting program:
The DEMA Show continues through Saturday  – be sure to check back for an update, and we'll have more coverage of the event and more of the products featured in an update after the show.
– Chris